Per our By-Laws we hold elections each year for open positions. For the 2020-2021 year we have the Secretary position open. Below are the candidates who have come forward to fill this role. An Electronic Ballot will be sent in the near future.
Corey B. Jones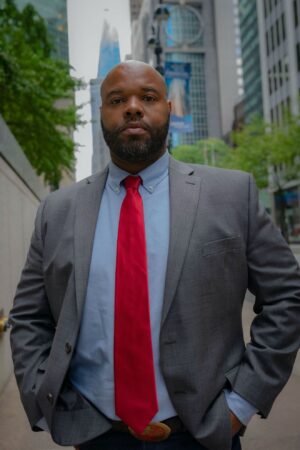 Greeting to all NJ Chapter ASSP Members, Executive Board members, Committee Members and Past Presidents. I am grateful for the nomination and chance to serve you all and the ASSP community at large, in addition to servicing my constituencies within the safety community.  "You have two hands. One to help yourself, the second to help others." Audrey Hepburn. To serve- is my goal as 2020 elected Secretary of the American Society of Safety Professionals New Jersey Chapter.
As a true and tried safety professional of more than fifteen years, I have been a member of ASSP since 2013. I am a Certified Safety Professional (CSP), Construction Health and Safety Technician (CHST), Safety Management Specialist (SMS), Licensed NYC DOB Site Safety Manager (SMS), and holder of various certification. In addition, I hold a Master of Business with a concentration in supply chain management from Seton Hall University (MBA).
While a member of ASSP I have held a standing committee position as chair for Gov't affairs for 3 years. I have attended Leadership Conference twice and help shape OSHA Latest construction crane standard 1926 subpart CC by providing comment to the proposed rule, during my tenure as Member at large for the Construction Practice Specialty for the past 3 years. I am also a current member of the Blacks in Safety Excellence (BISE), where I am an active mentor to my mentee in the NJ area. I have also personally invested in attending various PDCs, to further my connection with ASSP.
I am well prepared to Serve as Secretary and with that goal in mind my commitment is to diligently execute those duties. I am an excellent listener and an attentive observer. I am a dynamic communicator who will accurately record and disseminate meeting minutes. As a vision for my role as Secretary I will work to develop streamlined processes that will assist future Secretaries. These processes will include ideas around using technological advances within the Society such as the communities platform. Such as customizing sign in sheets from meetings and events, to better understand participants and using that information to generate specific conversations and excitement within the applicable communities. I will continue to solicit guidance and support from chapter leadership and collaboration from membership to bring ideas to fruition. At times my role will include recording of organizational documents for record keeping, I will work with board member, and stake holders within the society to ensure consistency of delivery in accordance with bylaws. Lastly my efforts will be in direct support of Chapter progressions toward Platinum level.  I look forward to the continued success of all Chapter members and hope to remain and grow in Service to all.
Respectfully,
Corey B. Jones, CSP, CHST, SMS, SSM, MBA
The deadline for employers to electronically submit their 2019 Summary of Work-Related Injuries and Illnesses (OSHA Form 300A) is March 2.  Click HERE for more information.
The main publication of the Safety and Health Historical Society is a quarterly journal, The Archives of Safety and Health. The January 2020 issue (Volume 3, Number 1) contains articles for people engaged in and interested in safety and health history.  Click HERE for the most recent newsletter.